Why
ReferralPoint?
Starting in 2014, we began investing in research, interviewing medical groups, focus groups and development partners to uncover the challenges and true impact referrals are having on clinical and financial outcomes.
This led us to develop an intelligent Patent Pending process to finally solve the recurring problems with referral management in healthcare.

Our 3 years of research proved many medical groups did not realize how much of an impact their referrals were having on cost, quality and revenue. Here are the most common
CAUSES, EFFECTS & OUTCOMES
which helped us prioritize the Development Plan based on solving the Problems that have the most clinical and revenue impact.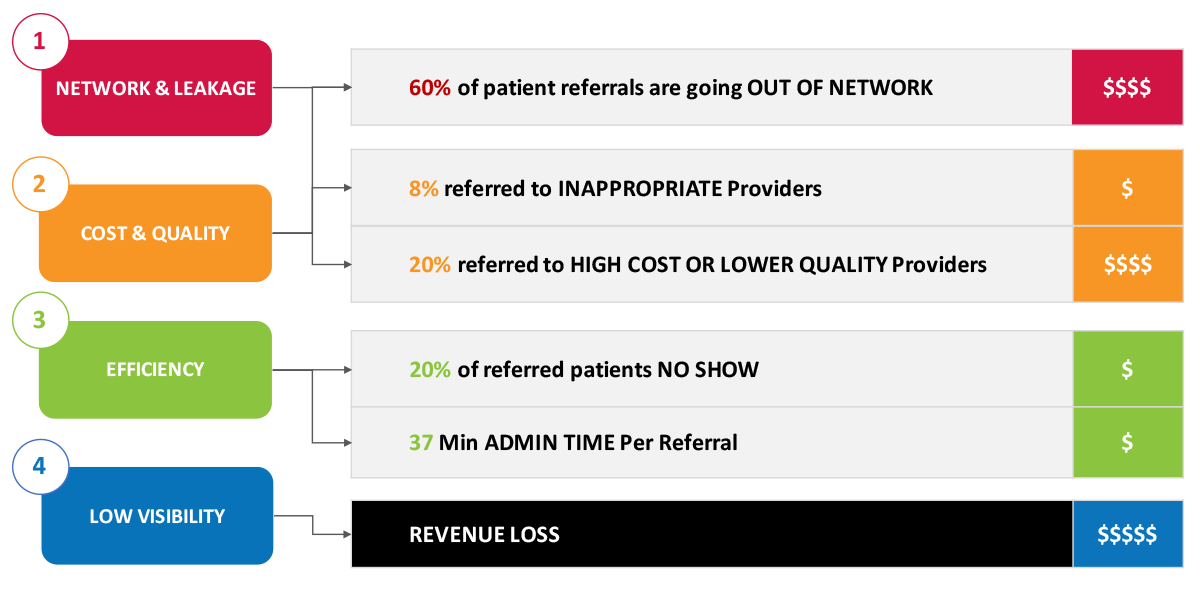 For Medical Groups and Payers…
ReferralPoint is a data-driven network management and closed-loop referral solution that quantifies the financial impact of existing referral trends, reduces leakage, increases revenue and shared savings, improves staff efficiency and automates communications to increase patient satisfaction and retention.
Unlike manual processes or disconnected tools like EHRs that result in uninformed referrals, our solution leverages cost and quality data to rank specialists and facilities to build high value preferred networks, then seamlessly presents the ideal patient-provider match within the EHR workflow.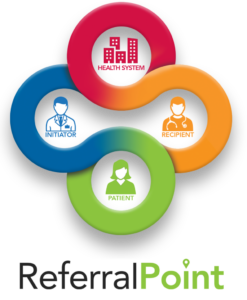 We found most competitors are trying to solve the areas in 
GREEN
 

but as you can see in the 
REVENUE IMPACT
 column, they have the least amount of impact. Our solution will not only solve the 
GREEN
 

areas but because of our access to the technology platform and cost and quality data, we are also able to actually pull off the areas that have the most 
REVENUE IMPACT
.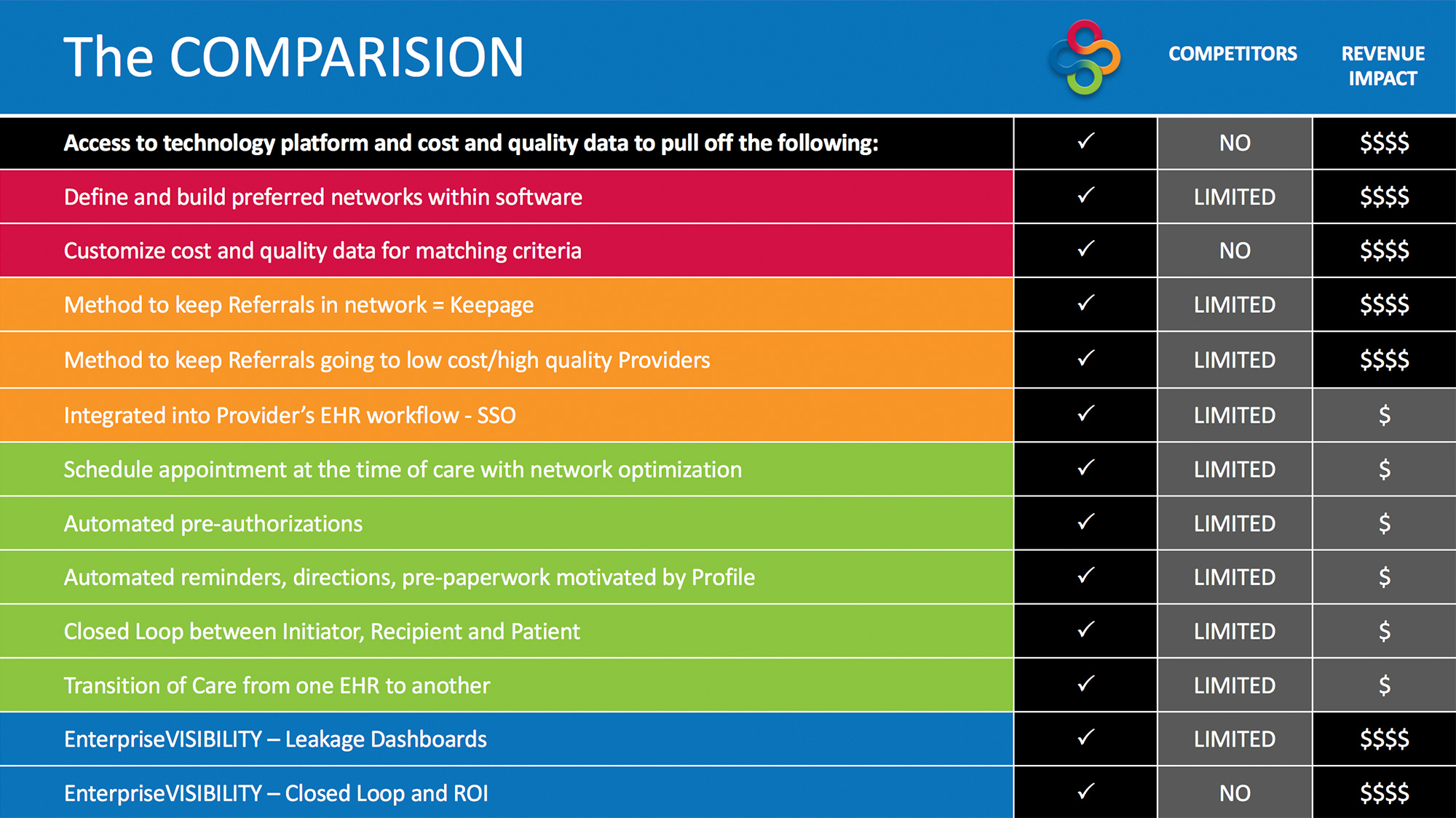 3 STEPS TO TRANSFORM YOUR REFERRALS
1. REQUEST A PERSONALIZED DEMO
First, we'll meet briefly to understand your process, concerns, and goals so we can present a personalized demo.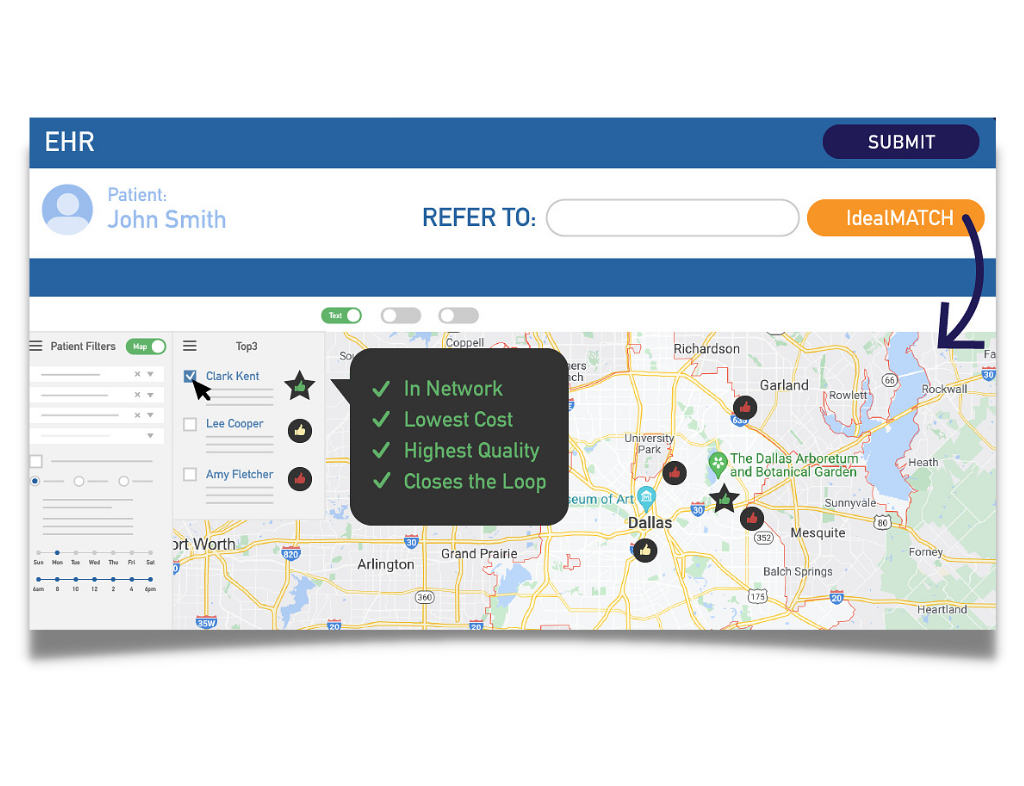 2. RECEIVE A CUSTOM BLUEPRINT
Our team will build a custom blueprint outlining the cost of your current process with plan to fix it.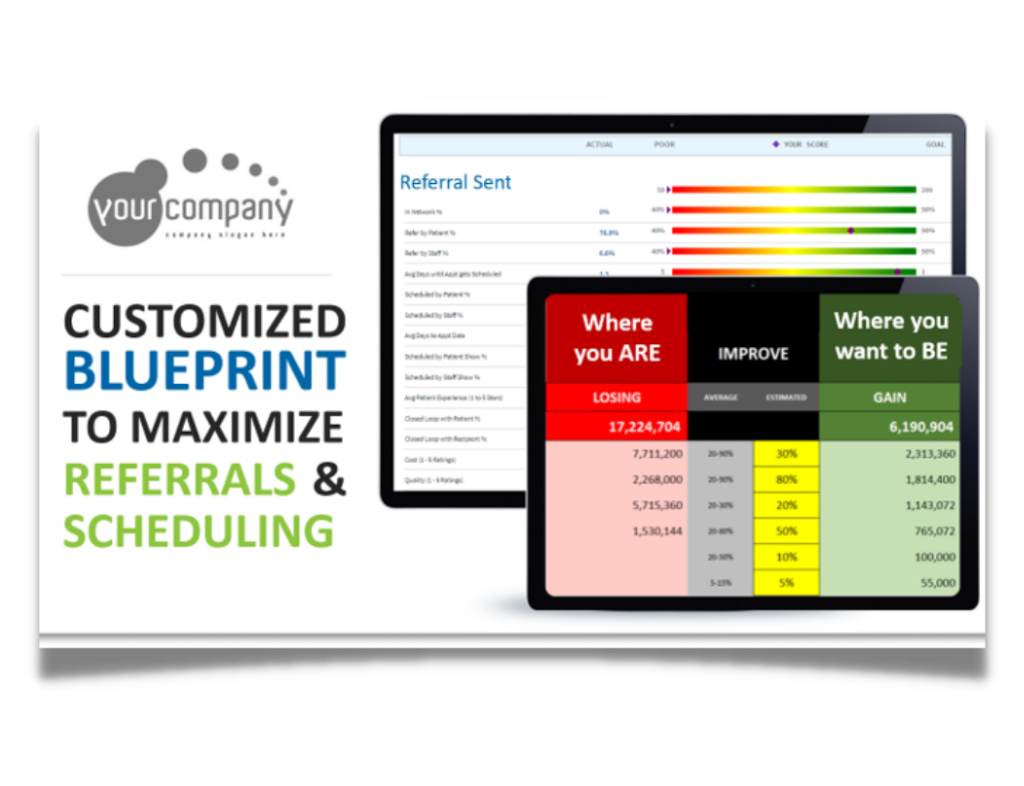 3. INCREASE REVENUE & SHARED SAVINGS
Enjoy the clinical and financial benefits of a new referral process while tracking progress over time.